Meet Dr. Bethany VanKirk
Appreciating All That Chiropractic Can Do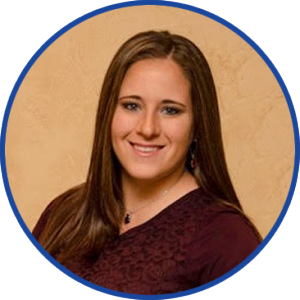 During her senior year at Indiana University of Pennsylvania, Dr. Bethany got a job as a chiropractic assistant in an office with a pediatric focus. She was studying exercise science with the intention of becoming a physical therapist and was helping patients with different therapies in the chiropractic office. Dr. Bethany was amazed at the changes taking place in the younger patients receiving regular chiropractic care.
"They weren't coming in for what I thought typical chiropractic problems were. These kids had ADHD, allergies and autism. One girl couldn't grow any hair. Within a couple of months, she had a full head of hair! She was energetic, enthusiastic and couldn't wait to get adjusted when she came in."
Dr. Bethany was raised in a very conservative and traditional family with a grandfather who was a medical doctor. Her experience at the chiropractor's office, however, showed her that the body is self-healing and self-regulating through a properly functioning nervous system and that many conditions could be healed naturally, without drugs and surgery. Realizing she found her passion and purpose in life, Dr. Bethany made the decision to enter chiropractic college.
Gaining an Education in Natural Health
Born and raised in Murrysville, Dr. Bethany moved to Iowa to attend the fountainhead of chiropractic, Palmer College of Chiropractic. She'd gone there to look at the campus and instantly fell in love with it. "It was the right place at the right time, and I knew it was where I was meant to be."
During her time there, she traveled on a chiropractic outreach trip to Hyderabad and Delhi, India. She and a team of fellow students provided chiropractic care to school-aged children, seeing over 500 of them. "It made me even more passionate about working with kids." Dr. Bethany also became heavily involved in learning about the Gonstead Technique. She completed over 1000 hours of study through the Troxell Internship Program run by Dr. Josh Lawlor.
She graduated magna cum laude from Palmer, just like she had with her bachelor's degree. Dr. Bethany holds several additional qualifications:
Gonstead Clinical Studies Society member
International Chiropractic Association member
International Chiropractic Pediatric Association member
Pennsylvania Chiropractic Association member
Recipient of 100 Hours award for study in the most advanced work in the Gonstead System from the Gonstead Methodology Institute
Recipient of 100 hours of advanced studies certificate, completed under Dr. Herb Wood at Gonstead Clinical Studies Society
South Carolina Chiropractic Association member
Westmoreland County Chamber of Commerce member
Leading a Happy, Healthy Life
A love of making people laugh and seeing them happy keeps things lighthearted at the practice and in Dr. Bethany's life outside of the office. She enjoys dancing, golfing, reading, traveling and getting outside. She loves the Pittsburgh Steelers and the Pittsburgh Penguins and spending time with friends and family.
---
Dr. Bethany VanKirk | Murrysville Chiropractor, Plum | (724) 519-9400